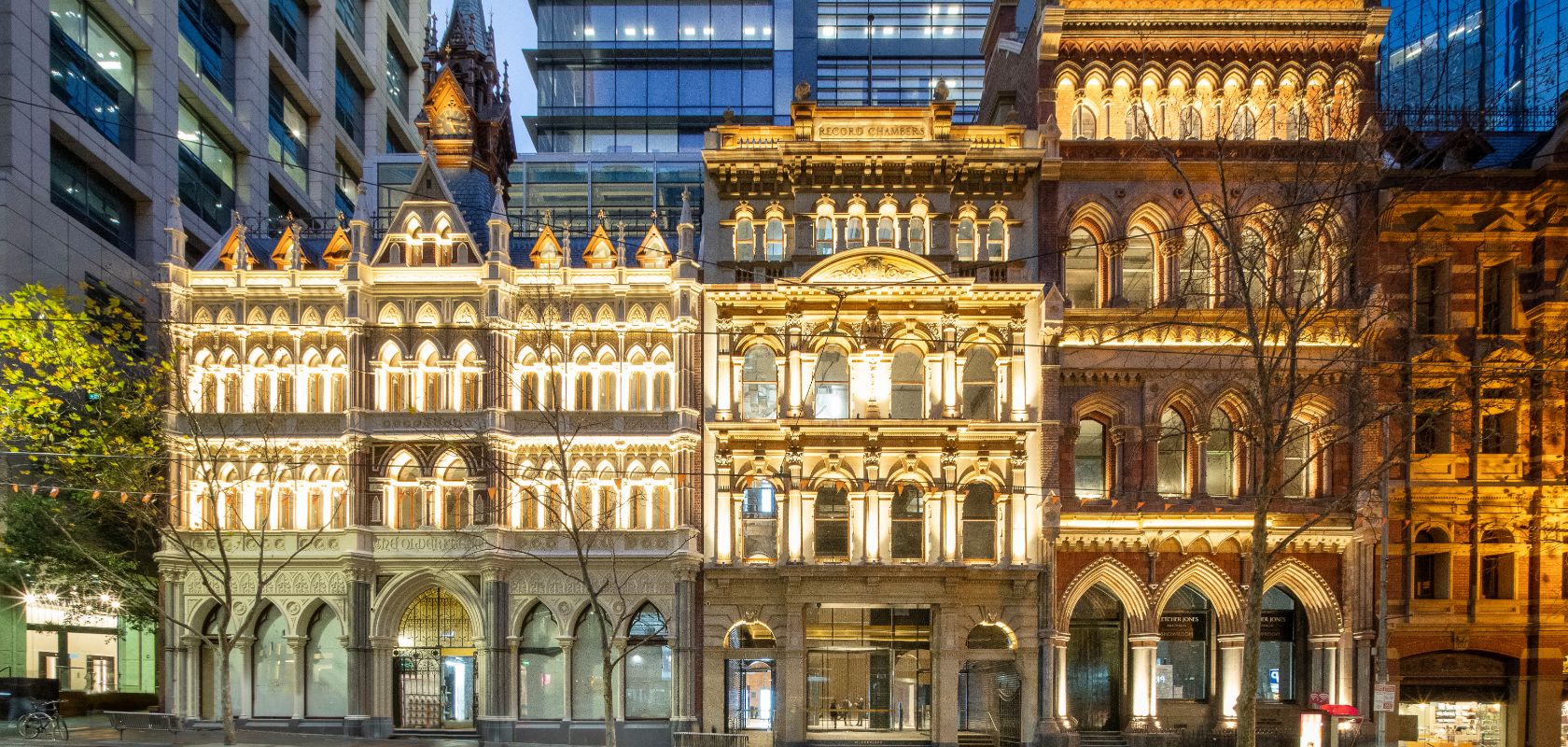 Performance. Presence. Productivity.
Unprecedented Collins Street - Melbourne welcomes one of Australia's most impressive commercial developments with Olderfleet located at 477 Collins Street. From the Victorian heritage façade to the stunning glass tower, upon completion, Olderfleet will be a 38 storey PCA Premium Grade office building that brings together the latest thinking in technology, amenities, wellness and sustainability. Explore the designs, take in the views and uncover the thinking that is transforming the heart of the resurgent midtown area of Melbourne's CBD.
Vision.
Mirvac's Collins Street commercial development has been designed by globally-recognised design house Grimshaw Architects, working closely with Carr Interiors, to both celebrate the rich heritage of the original Olderfleet buildings and to project a thoroughly modern form on the city skyline.
Melbourne's CBD is shifting focus, with Olderfleet at the centre.
The evolution of Docklands and the boom in mid town have aided in the re-balancing of Collins Street, bringing renewed energy, activity and vibrancy to this location. With significant and substantial improvements planned across the precinct, you are given access to the best food, entertainment, shopping and lifestyle amenity Melbourne has to offer. Simply step out via the grand entrance on Collins Street or by the rear laneway access on Flinders Lane. Be connected to all transport options the city has available. Buses, trams, trains, cycle-ways and even the freeway are just moments from our Collins Street location. There's practically no location more Melbourne than Olderfleet.
Location
477 Collins Street is a mix of beautiful heritage buildings married to striking contemporary architecture. The existing site includes one of Melbourne's most-loved Victorian heritage facades, the Olderfleet building, as well as direct access to Collins Street and Flinders Lane.
Read more
Sustainability
Olderfleet is targeting a 5 Star Green Star rating, a 5.5 Star NABERS energy rating and a Platinum WELL Certification.
Read more
Our Customers
We're proud to have built partnerships with like-minded businesses, both locally and globally. Together, we work to bring our shared vision to life.
In the heart of a resurgent mid-town CBD
Olderfleet is located centrally between the Yarra River and St Kilda Road, with rail, bus, ferry, bicycle and pedestrian links all on your doorstep making for an accessible journey.
Read More
40
Levels across 58,000 SQM
5
Target Green Star Rating